The San Jose Flipper Dippers
Happy Birthday - Now Celebrating Over 54 Years !
A Skin & Scuba Diving Club - For All The Right Reasons
---
Now that you have your SCUBA certification, who are you going to dive with?
If you haven't been in the water for a while, how do you get back in?
We've got the answer!
Lots of FUN SCUBA dives to keep you diving and learning including our popular monthly
Second Saturday SCUBA (S3) dives!
Established in 1964, the San Jose Flipper Dippers dive club is one of the oldest skin and SCUBA diving Clubs in the San Francisco Bay Area. We've had over 100 members and many have been with the Club for over 20 years! Lots of experienced divers to dive with. We have dives and other activities scheduled almost every weekend during the year -- and you don't need to be a Club member to join us on our dives.
You can always find someone to go diving with!
Lost of FUN dives: SCUBA dives, freediving, charter boat dives, abalone diving, spear fishing, photography, lobster dives . . . just to name a few.
See What Activities are Scheduled for This Month
Happy New Year to All!
---
GENERAL MEETINGS
Divers and non-divers alike are welcome to all Club meetings!
Our General Meetings are held at the Santa Maria Hall of the Knights of Columbus, 2211 Shamrock Drive, Campbell, which is off S. Bascom Avenue near Camden Avenue. Map/Directions
The Club's General Meetings are on the 3rd Wednesday of each month.
The meetings start at 7:30 PM.
Club dues are only $50 per year and includes discounts, a monthly newsletter and more! Recognized certification card and a 3-dive initiation is required before being voted into the club.
See Membership Requirements
---
Join in on the FUN - you'll be glad you did!

Take a look at this short video for an introduction:
(This is a 5 min. QuickTime video - let it load and it will play automatically)
---
---
---
SPECIAL NOTICES
---
Point Lobos State Natural Reserve

With the easy access and great diving, Point Lobos is a wonderful place to dive. Due to the high demand SCUBA diving, snorkeling, kayaking, and stand-up paddle boarding require reservations and should be made in advance. Reservations can be made in advance, as far out as the current month plus two months or as little as one day in advance.
Rules, regulations, a dive area map and reservations, can be found on the California State Park's Point Lobos SCUBA Diving page. (Click on Image)
Summary: Scuba Diving, Snorkeling, and Watercraft Activity Fees
Weekends and Holidays: $30.00 + Processing Fee per reservation
Weekdays: $25.00 + Processing Fee per reservation
Walk-ins allowed Monday-Friday, if space available: $25.00 per team of two
Kayaking: $10.00 per kayak Stand-up Paddle Boards: $10.00 per person
Boats / Vessels: $25.00 launch fee per vessel (collected at entrance station)
---
Pacific Grove Hyperbaric Chamber Fund Drive

Thanks to Everyone's Support the Chamber Has Reopened!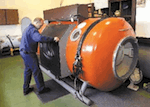 Pacific Grove's double-lock hyperbaric chamber, a lifesaving vessel used to treat scuba divers with decompression sickness, is up and running again! A service for divers since 1963, it was closed in June 2012 because of insufficient medical liability insurance. The local diving community continues to work to keep the chamber online.

The other nearest emergency hyperbaric chambers equipped for the needs of divers are at St. Francis Memorial Hospital in San Francisco and at John Muir Medical Center in Walnut Creek.

Over the years the San Jose Flipper Dippers have supported the chamber by donating money and specialty equipment directly to the chamber operation and have received informative educational tours of the facility.

Please consider a donation to keep this much needed, important resource for the local dive community in full operation. Donations to this project can be made online using a credit card or a PayPal account.

Your tax-deductible donation to the Pacific Grove Hyperbaric Chamber Fund will go directly towards the reopening of the facility and its operations.

For more information and donation options visit Pacific Grove Hyperbaric Chamber Fund

Donations can also be made by check and mailed to: Monterey Bay Sanctuary Foundation, 99 Pacific Street, Suite 455 E, Monterey, CA 93940

---
Monterey Dive Boats Matrix
Here's an easy to use matrix of the four Dive Boats currently operating in the Monterey Bay. Click on the image above to see a pdf showing photos, specifications, costs, boarding times, tanks supplied and Web links to the boats including: Beachhopper II, Escapade, Sanctuary and the Silver Prince. Be sure to check This Month's Activities to see which boat we'll be diving off.
---
Now you can follow the San Jose Flipper Dippers on Facebook!

Follow us on Facebook: Click on the Logo

---
What's new for abalone diving this year?
Abalone Regulations Review - Be Forewarned!
Changes effective April 1, 2017 include:
Ft. Ross Closure
Year-round Ft. Ross Area Closed and includes the Reef Campground area.
Start Time
The start time for the fishing ("searching") day is 8:00 a.m. You can take your ab iron, gauge and bag into the water before 8 a.m., but you CAN NOT start "searching" for the abs until 8 a.m. The operative word being "searching."
Annual Limits on Taking Abalone

Emergency 2017 Abalone Bag Limits and Dates Approved
New rules for the amount of annual take and months for red abalone catch:
The months of April and November are now CLOSED. Abalone may only be harvested during the months of May, June, August, September and October.
The annual take limit has been reduced from 18 to 12. The limit of 9 that can be taken in Sonoma County remains.
Equipment / License / Ab Card:
The usual abalone equipment requirements do not change:
1.) You must have your abalone report card in your possession and follow the prescribed procedures in filling it out.
2.) If you are 16 years of age or older, you must have your fishing license in possession.
3.) You must have your own fixed-arm 7" gauge in possession.
4.) You must have your own container (goodie bag) for your abalone.
5.) You should also have some method of separating your abalone tags, writing upon them with indelible ink, making holes in them, and ties, or line, to attach them to your mollusks.
For FAQ (Frequently Asked Questions) on abalone regulations visit the Dept of Fish & Wildlife
CDFW Marine Region Website
2018 Abalone Fishing Changes
An Adoption Hearing on the proposed changes will be held December 6-7, 2017 in San Diego.
In October, 2017, in Atascadero, there was a meeting and discussions of proposed changes to recreational abalone regulations for 2018 by the Fish & Game Commission (FGC), the Department of Fish & Wildlife (DFW), and interested public members.
Recommendations
o FGC Staff: Adopt DFW's recommendation to close the recreational abalone fishery, consistent with the ARMP and DFW's findings.
o DFW Staff: DFW recommends Option 1, to close the recreational abalone fishery. This recommendation is consistent with the ARMP and reflects evidence that the fishery is unsustainable and in rapid decline.
---
Soldiers Undertaking Disabled Scuba (SUDS)

SUDS Website
Thanks to all for your donations for SUDS! In August of 2011, over 400 pounds of dive gear was collected for our disabled vets. Visit the SUDS Website to learn about this great operation helping our vets learn to SCUBA dive.
---
The Purpose of the Club today remains as it was when originally founded:
To promote active participation in diving for safety, education and pleasure.

To encourage the conservation of all marine life by obeying all Federal and State game laws and urging others to do likewise.

To take an active interest in and to stimulate legislature favorable to, and promoting, the sport of "Skin and Scuba Diving."

To promote safety on the beaches as well as in the water.

To encourage good sportsmanship and cooperation in our club - and with other diving clubs - and to extend the universal fraternal courtesy to all fishermen and women, boaters and swimmers.

To volunteer services and facilities of the club to civil authorities whenever needed.

To carry on extensive research concerning underwater safety, new diving equipment and to promote an information service and training to all entering into the sport of skin and Scuba diving.
The Club offers its members a wide variety of skin and Scuba diving activities and other social, sport, recreational and community service projects in which participation is both enjoyable and rewarding.
---
Activities of the San Jose Flipper Dippers include:
FREE Monthly Newsletter
Weekend Dives
Night Dives
Underwater Photography
Family Picnics
Mid-Week Dives
Beach Clean-Ups
Weekend Camp-Out Dives
Safety Education
Spear Fishing
Movies and Slide Shows
Monterey Boat Dives
Free Diving
North Coast Abalone Dives
First Aid & CPR Training
Trophy Program
CPR Training
Snow Ski Trips
Guest Speakers
Advanced Diver Program
Lobster Dives
General Meeting Raffles
Special Events
and much, much, more!
---

National and local associations in which the San Jose Flipper Dippers have been recognized for their valuable asset to diving and local communities include:

CenCal (Central California Council of Diving Clubs) CenCal


USOA (Underwater Society of America) USOA


DAN (Divers Alert Network) DAN


NAUI (National Association of Underwater Instructors) NAUI


PADI (Professional Association of Diving Instructors) PADI


SEI (Scuba Educators International) SEI


YMCA Scuba YMCA Scuba NOTICE: YMCA of the USA discontinued the scuba certification program on December 31, 2008. The lifetime scuba certification will remain valid and the YMCA will assist those with fulfillment of a lost certification card.
---
Come join us at our monthly meetings and dives!
Need more info? Contact: clubinfo @ SJFlipperDippers .com
---
Flipper Dippers Home Page / This Month's Activities / Membership Requirements
Star Achievement Program & Requirements / 2018 Calendar of Events
Related Web Sites / Taking Game in California Waters / Professional Services
---
© 2018 San Jose Flipper Dippers
---